320 Bulldog / 320 short Colt
Before shooting, have your gun checked by a gunsmith.
Use BLACK POWDER ONLY.
THE TOOLS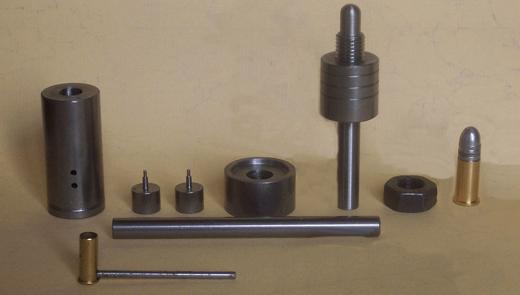 The H&C 32 RF tool kit is totally compatible for resizing, assembling, and crimpling the 320 bulldog cartridge cases that you might already have in your possession.
Depending on the dimensions of your cases, you will achieve either a complete or a partiel resizing.
Simply put, if, when resizing, the bottom of the case (toward the head, or the neck) is too large to go any futher into the case, dont't force it! It would offer no technical advantage and you would ruin the case.
We offer these tools under the reference code A320: they are delivered in a wooden box, without bullet heads, cases, or primers.(look at "price and orders" for 320 revolver / 320 bulldog / 320 short colt bullet heads and cases)
THE BULLET HEADS

The H&C 32 RF bullet heads are almost always perfectly suitable for chamberings and cases in 320 bulldog, due to the narrowing in their base and their calibre of 8.02 mm.

However, if your cylinder does not accept 8.02, you can resize the bullet head to the theorical
standard size of 7.90mm using the sizing die.

Resizing of the bullet head, before insertion into the case:

-Put the sizing die, neck uppermost, on your workbench.
-insert the bullet head, nose downward.
-With the tool's extractor rod and a mallet, push the bullet head through the sizing/crimping die:
When it come out of the die, the bullet head will have been resized to 7.90mm
We offer these bullet heads under the reference code D32BD : they are delivered in batches of 25,
without primers.We also offer them under the reference code E32BD in batches of 100, without primers.
ASSEMBLING THE CARTRIDGE

With Boxer-type cases, the procedure is extremely simple:

A) DEPRIMING :
Place the head of the case on the base of the H&C tool: with a nail of approximately
1.5mm diameter and a mallet,knock out the old (spent) primer.

If the nail does not fit, it may be because it is too thick, or because the
case is of the Berdan type, these being more difficult to reload.
Should this be the case, please do not hesitate to contact us : contact@hc-collection.com

B) REPRIMING:

Place the sizing die, neck uppermost, on the workbench : insert the case, place the primer
above the empty primer pocket and seat it with a sharp tap of the mallet.

This operation presents no risk of accidental ignition : Use small pistol primers, Boxer type (Sold unregulated in gunshops. Check local laws).
C) INTRODUCE THE POWDER

Charge the case with black powder and returb to steps 1, 2, and,
if necessary, 3 of the instruction guide for 32RF on this website.
Before shooting, have your gun checked by a gunsmith.
Use BLACK POWDER ONLY.